Tube mandrel bender
The tube mandrel bender 50NC-DW is a semi-automatic hydraulic mandrel tube bender that can bend tubes with a maximum diameter of 50*2MM. Tube mandrel bender has the advantages of safe use, easy operation, and good bending effect.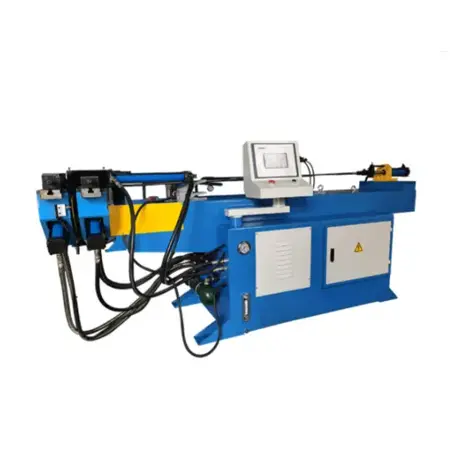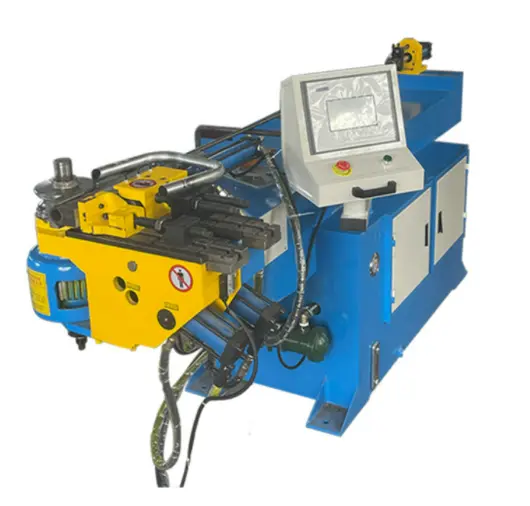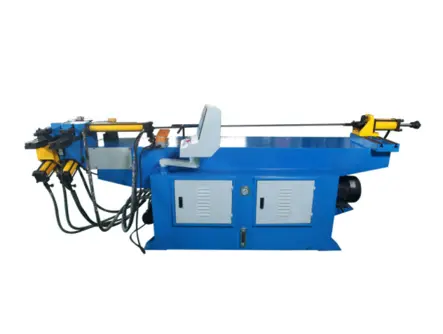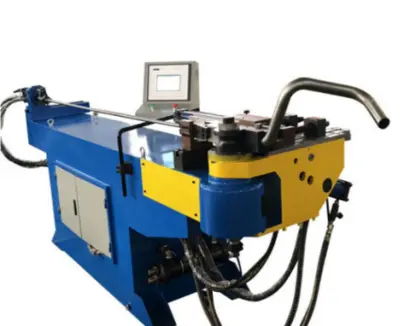 ● Características



1. Touch screen
The tube mandrel bender is controlled by a touch screen and the operation is easy.




2. All-copper motor
Industrial mandrel tube bender adopts an all-copper motor. It has low noise, high power, not easy to damage.




3. Tube bender mandrel
The position of tube bender mandrel can be adjusted, ensuring the bending effects.



4. Explosion-proof oil pipes
The hydraulic mandrel tube bender uses explosion-proof oil pipes, which are resistant to high pressure and have a long service life.




5. Mandrel tube bender dies
Tube mandrel bender can customize different mandrel tube bender dies according to different tubes. It can bend round tubes, square tubes, oval tubes, solid round rods, and rectangular solid rods.
● Square tube mandrel bender specifications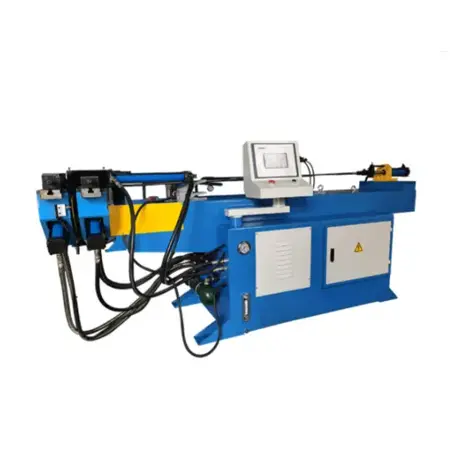 | | |
| --- | --- |
| modelo | 50NC-DW |
| Bending tube diameter×wall thickness | 50x2mm |
| Maximum bending radius | R350 |
| Minimum bending radius | R≥1,5D |
| Maximum bending angle | 190° |
| Standard mandrel pulling length | 2200mm |
| Number of bends allowed for pipe fittings | 16 |
| Number of parts that can be stored | 16x16 |
| Motor power of oil pressure | 5,5KW |
| Maximum system pressure | 12Mpa |
| Hydraulic system control | Solenoid valve |
| Control system | Microcomputer control |
| Tank volume | 150L |
| Overall dimension machine | 300*70*10OCM |
| Machine weight | 1220kg |
| Bending accuracy | ±1 |
● Mandrel tube bender exhaust structure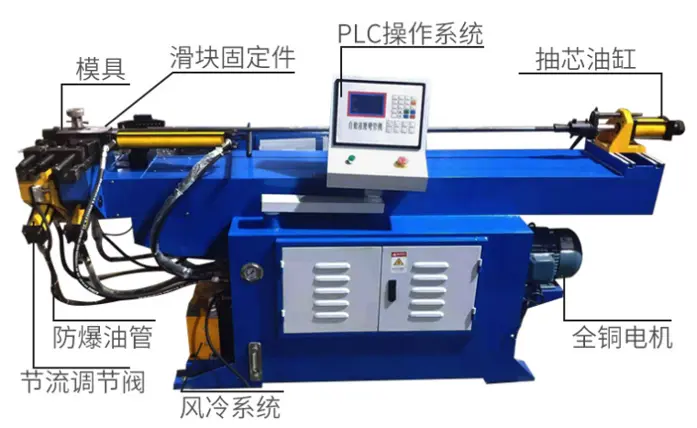 ● Transportation & after-sale service
Yansumi Machinery is one of the best mandrel tube bender suppliers in China. We have a professional development team and the Tube mandrel bender quality is good. Yansumi Machinery produces different models of CNC mandrel tube bender and NC mandrel tube bender. We provide small mandrel tube bender and heavy duty mandrel tube bender to meet different needs. So, the cnc mandrel tube bender cost is low if you buy it from China. As for customers with a lower budget, they can choose used mandrel tube bender or used CNC mandrel tube bender, which can also achieve good bending effects. The mandrel aluminum tube bender produced by Yansumi Machinery can be used as a muffler tube mandrel bender or exhaust mandrel tube bender. Our Yansumi tube mandrel bender has been sold in different countries, such as mandrel tube bender for sale Australia, precision mandrel tube bender in Utah, Peru, Mexico, India, and Pakistan.
Yansumi Machinery cooperates with professional freight forwarding to provide the best transport plans and good transport prices.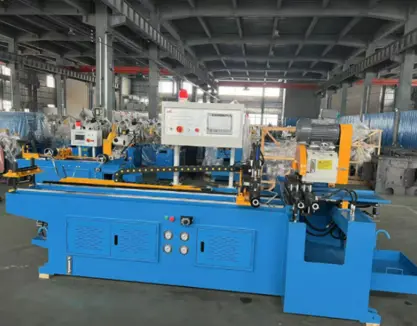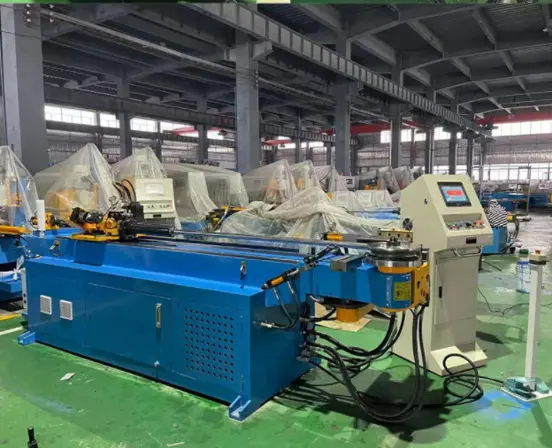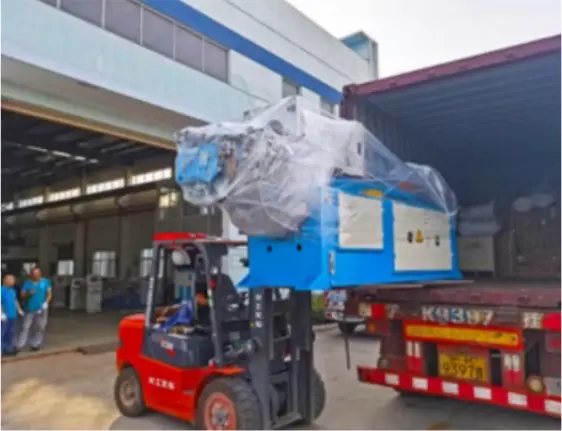 ● Transfluid mandrel tube bender application
Mandrel tube bender steelmaster has a wide application in different industries. For example, the exhaust tube bender with mandrel can process the muffler, and the exhaust tube bender with mandrel can process the exhaust tubes of cars, trucks, and motos. Apart from the mentioned fields of application, the mandrel bender for 3" tube also makes significant contributions in other domains.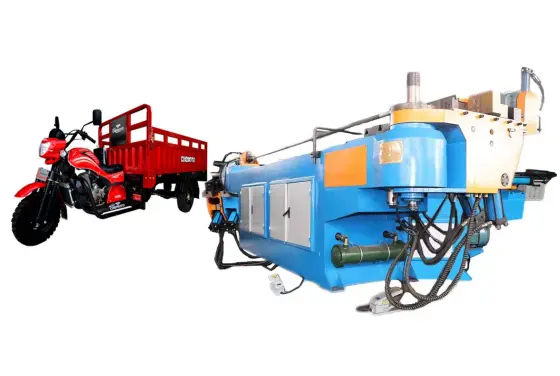 Mandrel tube bender for sale produced the tricycle frame in Peru. The cnc mandrel tube bender cost in China is lower than cnc mandrel tube bender cost in Peru. For example, the mandrel tube bender for sale 100NC- DW price is 12500 USD, but the price in Peru will be about 3 times the price in China. If you buy mandrel tube bender directly from China, you will get good prices, good quality, and more mandrel tube bender types.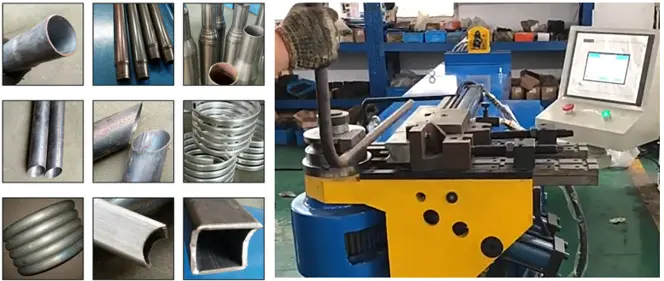 The customers who produce tables, chairs, doors, and windows in Mexico buy the commercial mandrel +tube bender from our factory. Our tube mandrel bender price is higher than manual mandrel tube bender. The manual tube bender with mandrel has low work efficiency, low tube bending accuracy, and high labor cost. The tube mandrel bender has high work efficiency, more accurate tube bending, and saves labor costs. So, the customer has high economic benefits if they buy our steel tube bending machine. By using this machine, customers have the ability to produce complex products or diverse products and improve the market competition.
● FAQ
What is a mandrel tube bender?

The mandrel tubing tube bender consists of commercial mandrel +tube bender. Mandrel is very important during bending pipes. It can support the inner wall of the tube and prevent deformation, through this way, the bend effects are very good. Tube bender ball mandrel has different types, including, cylindrical mandrels, universal single, double, three, and four-ball head mandrels, directional single and multi-ball head mandrels, etc. Users can choose according to their own needs.
How to solve the clamping problem of tube bending machine?

During tube mandrel bender bending tubes, the clamping die can not fix the tubes, resulting in wrinkling of pipes. So, YANSUMI MACHINERY provides the following solutions.
• Reasons
1. The clamp die was severely worn after a long time of use so that the clamping strength decreased and the tube could not be clamped.
2. The hydraulic system pressure of baileigh mandrel tube bender has insufficient pressure.
3. The surface of the tubes is not smooth.
4. Wrong operation of clamp die, the clamp die pressure is insufficient or the clamp die position is improper.

• Solutions
1. If the clamp die is severely worn, it must be replaced.
2. Increase the hydraulic system pressure.
3. Make sure the tube surface is smooth.
4. When operating the mandrel aluminum tube bender, it is essential for the operator to use the fixture correctly, ensuring proper clamping force and positioning.
How to solve the wrinkle phenomenon of mandrel tube bender?

During the bending process with dom tube bender mandrel, it is possible for wrinkles to appear on the surface of the tubing. There are many reasons that contribute to this problem.YANSUMI MACHINERY will primarily focus on the material, pressure of the pressure die, and bending speed to provide a detailed explanation and solutions.

1. Check the bending materials
If the materials are too hard, too brittle, or do not meet bend radius requirements, they can result in wrinkling. So, users should choose the materials according to the mandrel bender small tube specifications and requirements and ensure the successful completion of the processing.
2. Adjust the pressure of pressure die
Excessive pressure can cause wrinkling, while insufficient pressure can result in irregular shapes of the bent tube. So, users should adjust the pressure of the pressure die to prevent wrinkles in tubes.
3. Adjust the bending speed
If the bending speed is too high or too low, it can result in wrinkling. So, users should adjust the bending speed according to different bending materials.