Pipe bending machine china 168NC-DW
Max bending capacity: 168*14MM Hydraulic pipe bending machine price: 60000 USD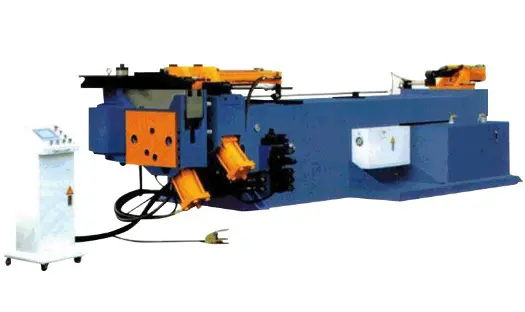 ● Pipe bending machine for sale in China features



1. Independent oil circuit system
The cnc pipe bending machine china uses a fully sealed dustproof oil circuit system, ensuring the long-term stable operation of equipment.




2. Microcomputer control
The pipe bending machine aluminium is controlled by microcomputer control and the human-machine conversational operation is easy. We can input the bending angles through the screen and one pipe can be bent continuously 20 times. It has the function of multiple program settings and multi-angle pipe bending.




3. Separate foot switch
The pipe bending machine round uses a separate foot switch and has the function to fire the machine, stop the machine, and return the machine to operation.




4. Stable structure
The structure of the large pipe bending machine is stable, ensuring reliable quality. The advanced pipe bending machine design allows for a large bending radius.
● Exhaust mandrel tube bender specifications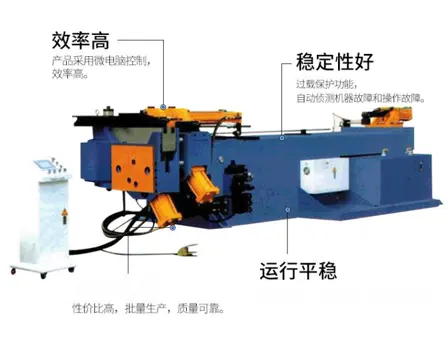 | | | |
| --- | --- | --- |
| Model | unit | 168NC-DW |
| Maximum bending tube diameter×wall thickness | mm | 168×14 |
| Maximum bending radius | mm | R750 |
| Minimum bending radius | mm | R≥1.5D |
| Maximum bending angle | Degreee | 190° |
| Standard mandrel pulling length | mm | 5000 |
| Control System | | Microcomputer control |
| Number of bends allowed for pipe fittings | Unit | 16 |
| Number of parts that can be stored | Unit | 16×16 |
| Motor power of oil pressure | KW | 22 |
| Maximum system pressure | Mpa | 16 |
| Hydraulic system control | | Solenoid valve |
| Tank volume | L | 650 |
| Overall dimension Machine | mm | 7100x2000x1800 |
| Machine weight | Kg | 12000 |
Note:
1. The minimum bending radius should not be less the 1.5D of the pipe diameter.
2. The maximum bending radius and standard mandrel pulling length can be customized according to customer needs.
● Transportation & after-sale service
We are professional pipe bending machine factories in China and produce pipe bending machine, cutting machines, pipe cutting machines, and other metal processing machines. We are a manufacturer integrating production, sales, and transportation. We provide hydraulic pipe bending machine for sale service,old pipe bending machine for sale service, and pipe bending machine parts sale service. Our company has a professional development team and the pipe bending machine design is very advanced. We have a good pre-sales and after-sales service team and provide the pipe bending machine video about installation and use, making the customer better to use. So our products are deeply loved by customers in various places.

Our products have been exported to different countries for over ten years, we have customers in Mexico, Peru, Bolivia, and Portugal and are trusted by customers. Because our price of pipe bending machine is cheap and the quality is good, many pipe bending machine manufacturers imported the pipe bending machine spare parts from our company and assembled them, such as, pipe bending machine manufacturers in India, Ahmedabad, UAE, Pune, Bangalore, Gujarat, Qatar, Coimbatore, Delhi, Ludhiana, Rajkot, Chennai, Faridabad.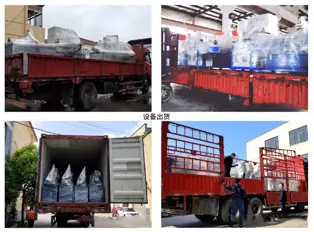 In the Indian market, purchasing a pipe bending machine cost from our company is less compared to buying from local suppliers. The hydraulic pipe bending machine price in India is three times higher than pipe bending machine price made in China. The cnc pipe bending machine price in India is also four times higher than cnc pipe bending machine china price. So, if you are interested in our machines, please contact us, and we will provide the best pipe bending machine hydraulic price.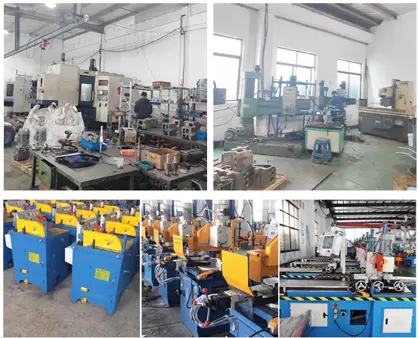 ● Pipe bending machine china application
The pipe bending machine china is a practical equipment that can bend metal pipes. The pipe bending machine operation features convenience, stable performance, and high work efficiency. It is an ideal equipment for the pipe processing industry, such as exhaust pipes, seats, etc. The pipe bending machine cnc is good equipment, but, there are some problems that need to be noted. For example, the cnc pipe bending machine cost is higher than hand pipe bending machine cost and the initial capital investment required is large. The pipe bending machine maintenance is also important, this machine needs to replace the hydraulic oil and clean the machines for delayed service life.

This product is the latest hydraulic pipe bending machine that can bend pipes with maximum sizes of 168x14MM. It is bending the pipes through the hydraulic system and the bending power is strong. The price for hydraulic pipe bending machine is good and performance is strong. This machine can store various bending parameters and the operation is easy. It is suited for different metal process industries, such as oil pipes, bumpers, mufflers, seats, motorcycles, boats, trains, fitness, air conditioning and refrigeration pipes, bicycles, steel furniture, bathroom equipment, etc.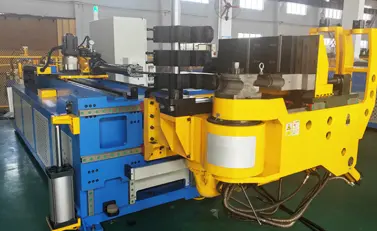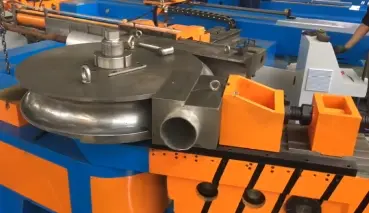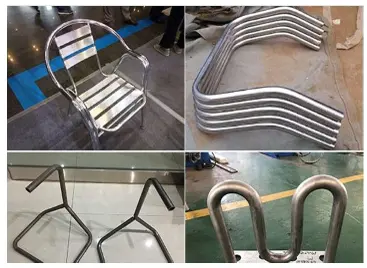 ● FAQ
Hydraulic pipe bending machine working principle

The bending pipe bending machine is used for the piping process. The pipe bending machine types can be divided into cnc pipe bending machine hydraulic,nc pipe bending machine,electro pneumatic pipe bending machine,electric hydraulic pipe bending machine, and pipe bending machine hand operated according to the different drive. The CNC pipe bending machine for sale has the advantages of various functions, reasonable structure, simple operation, and high efficiency and is suited for electric power construction, public railway construction, boilers, bridges, ships, furniture, decoration, etc.

The pipe bending machine parts name include the motor, high-pressure oil pipe, oil cylinder, mandrel, plunger,pipe bending machine die(bending die, pressure die, clamping die, and wiper die).

The pipe bending machine working principle: The motor drives the pump to transport high-pressure oil through the high-pressure oil pipe into the oil cylinder. The high-pressure oil propels the plunger inside the cylinder, generating thrust, and bending the pipe through the pipe bending machine die.
How to choose suitable automatic pipe bending machine model?

The pipe bending machine specification distinction is according to different bending diameters of pipes. For example, the maximum bending outer diameter of DW38NC pipe bending machine hydraulic is 38mm, and the bending materials are carbon steel pipe and round pipe. If bending the stainless steel pipe or square pipe, we can choose the slightly larger machine model, and if the pipe bending machine nc model is too small, it may result in an inability to bend the stainless steel pipe.

Now, we know how to distinguish automatic pipe bending machine models and choose pipe bending machine according to bending outer diameter. And we can get the precise pipe tube bending machine price according to pipe bending machine specification.

If you still have questions, you can contact Yansumi Machinery by WhatsApp. We can provide you with an accurate pipe bending machine equipment model and price according to your needs.
What should I do if the pipe bending machine hydraulic rusts?

The right maintenance is very important for preventing rust. Yansumi Machinery provides the following solutions to improve the lifespan and performance of oval pipe bending machine.
1. Polishing
We can polish the steel pipe bending machine for sale surface by using a wire brush to remove rust, the effect of the rust removal method is weak. But, if rust cannot be removed in this way, we can choose another rust removal method,
2. Acid pickling
This is a chemical cleaning method and can remove rust, oxidation, and old coatings. However, this rust removal method is not environmentally friendly enough and causes harm to the environment.
3. Sand spraying
By utilizing the high-speed rotation of a high-power motor, materials such as steel shot, steel grit, steel wire segments, and mineral abrasives are used to remove rust and oxide deposits from surfaces under the powerful centrifugal force generated by the motor.
● More recommended models