Best 5 cnc tube bending machine manufacturers in China
Tube Bending Machine Manufacturers in China
Tube bending machine manufacturers in China have made significant advancements in the field of metal manufacturing. In the past, manual bending of small-diameter tubes often led to errors in measurements, imprecise angles, and high scrap rates. However, with the technological prowess of CNC tube bending machine manufacturers in China, we can now achieve precise tube bending using CNC tube bending machines designed for this purpose.

CNC tube bending machine combines CNC technology with pipe bending machines, replacing human control with a microcomputer and servo motors to ensure accurate movements of the machine's components. This results in highly accurate bent tubes. As China progresses towards industrialization and modernization, the demand for tube bending machine cnc across various industries is increasing.

To meet this demand, CNC tube bending machine manufacturers in China are focusing on research and development efforts to promote the localization of fully automatic pipe bending machines (such as cnc steel tube bending machine, cnc aluminium tube bending machine, cnc copper tube bending machine, etc) in the Chinese market. After years of development, many cnc steel tube bending machine manufacturers can now produce CNC tube benders with stable performance. These machines are becoming increasingly popular in different manufacturing industries, including road and building construction, motorcycle spare parts production, truck spare parts production, ship spare parts production, gym equipment parts production, and more.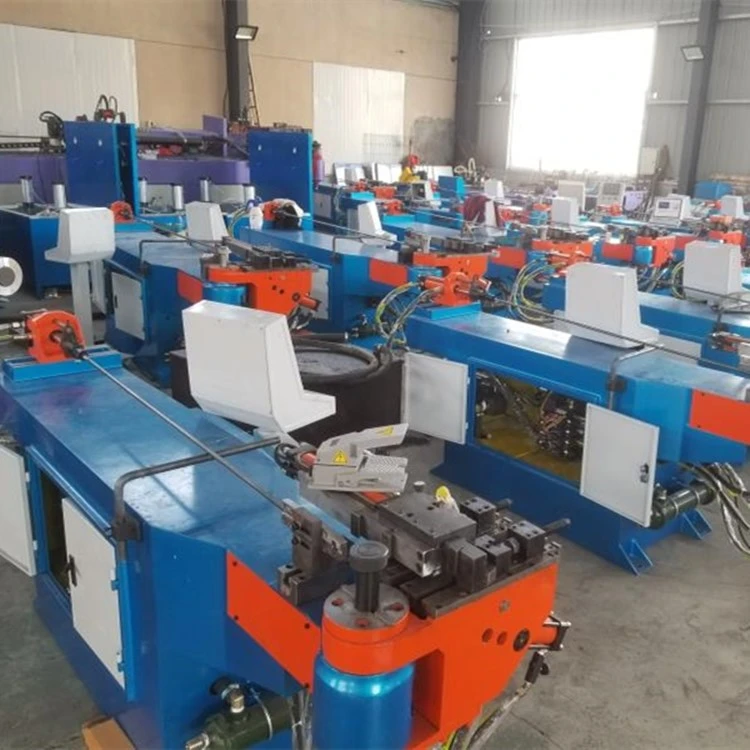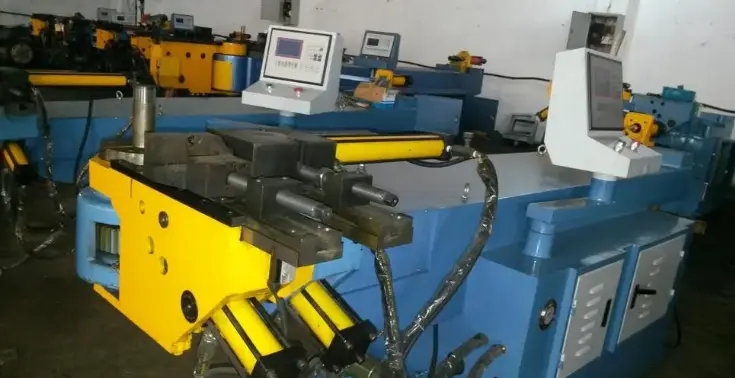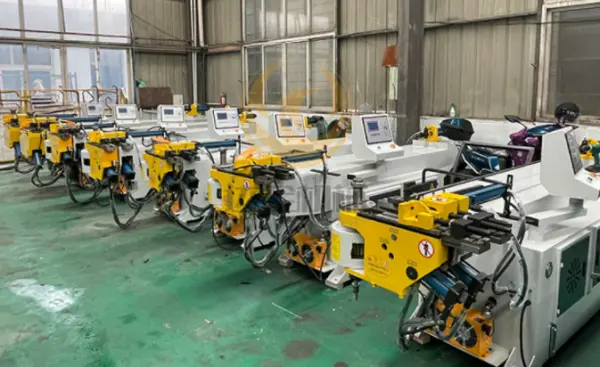 What is Tube Bending?
Tube bending is the manufacturing process that involves shaping metal tubes or pipes into precise angles, curves, or customized shapes. It is widely utilized across various industries, including the production of stair railings, handles, trombones, furniture frames, air conditioning equipment, automotive parts, and more. Bent tubes are crucial for altering the direction of conduits, such as those used for gases and fluids in exhaust systems, hydraulic lines, pipelines, and other applications.

The extensive use of bent tubes has driven continuous improvement and development in the production of tube processing machines. CNC tube bender manufacturers are constantly striving to create the best bending machines to ensure accurate and efficient tube bending processes.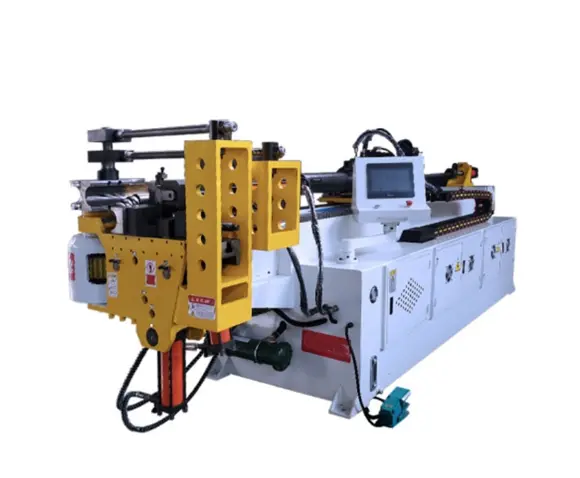 Tube bending machine manufacturers produce vatriety of tube and pipe bending machines to meet cumtomers' production requirements.

1, Pipe bending machine take advantage of pulling force to bend tubes.

One side of the tube is fixed on the rotating arm with clamp and the other part of the tube pass through three horizontal support rollers, the rotary wheel and rotating arm are integrated. When the rotating arm rotates, it drives the pipe to produce shape change.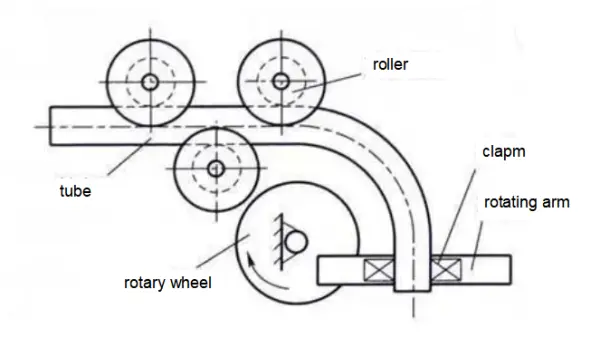 2.The push rod pushes the tube out through the bend die and rolls it between the supporting rollers on both sides to form it. The bend die and support rollers have groove that is the same as the diameter of the tube to bend.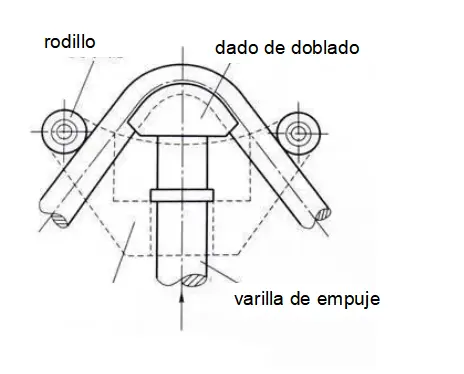 CNC tube bender manufacturers produce the following tube bender with this theory.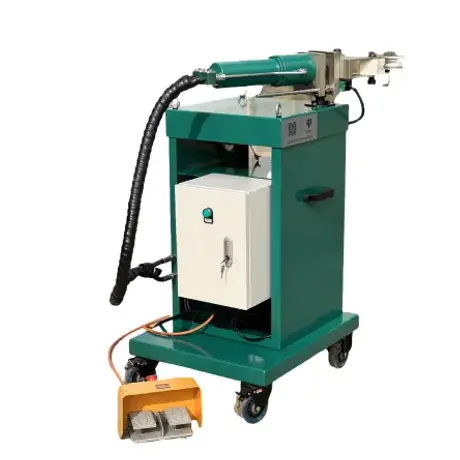 China metal pipe bending machine manufacturers install servo motor in the hydraulic tube bender, so that the hydraulic tube bender has the memory function. The memory function of the hydraulic tube bender is very convenient to bend tubes in same angle.

3.Each bend die has a groove that matches the shape of the tube. The tube is pressed against the rotary bend die that can rotate around the axis by the clamp die and pressure die. The pressure die and the bend die rotate to drive the tube to rotate together with the rotary bending die under the action of radial pressure and friction of the clamp die to realize bending work. Currently, most of the tube processing machines producers manufacture pipe bending machines appling this theory.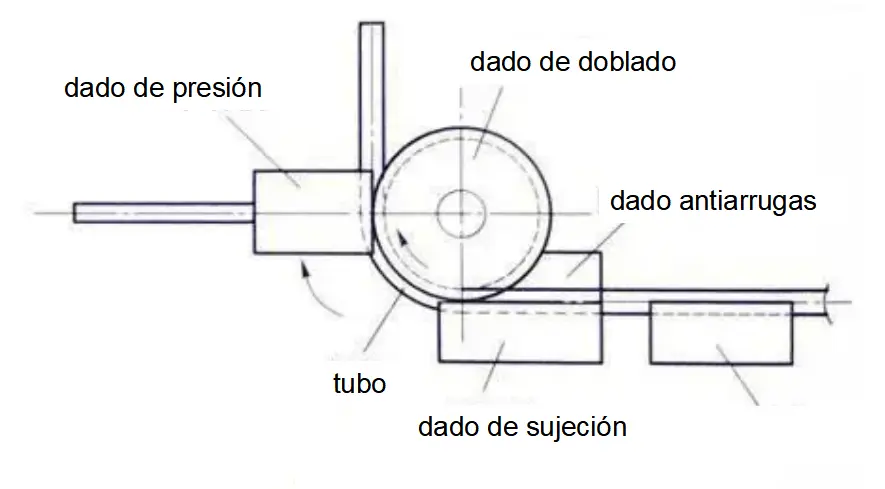 How Does A CNC Tube Bending Machine Work?
After years of dedicated efforts, CNC tube bending machine manufacturers have developed the ultimate bending machine known as CNC tube bending machine (CNC tube bender). CNC stands for computer numerical control, and these machines seamlessly integrate with minicomputers to control various components. The feeding, rotation of tubes, and the bending process itself are all precisely controlled by the minicomputer. The CNC tube benders utilize servo motors to ensure consistent and accurate bending angles. Considered automatic tube benders, once the necessary shape data of the tubes is inputted, the CNC tube bender can flawlessly and automatically execute the bending work.

The following five components play a major role in the clean, precise bending of tubes on CNC tube benders:

● The bend die of the cnc tube bender is a round part which can determine the radius of the bend.
● Clamp die: As the bend die rotates, the clamp die gripgrips the tube to hold it in place.
● Wiper dies: In the inside area of the bend, this part prevents wrinkles from forming.
● Mandrel: The mandrel is placed into the tube to prevent wrinkles inside the bend, this part works with the wiper die.
● Pressure die: Pressure die applies pressure to tubes to cause the shape change of the tube.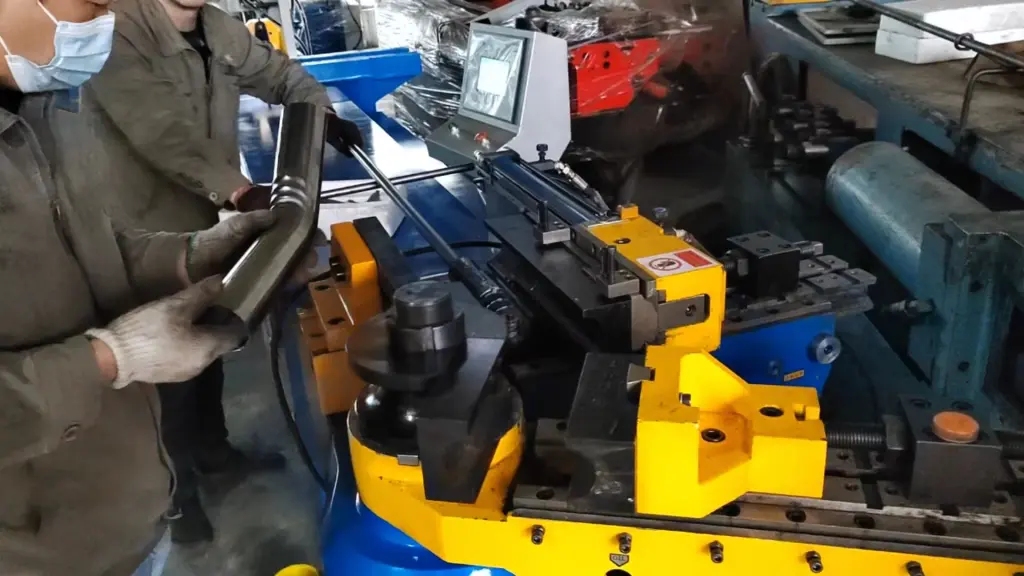 These pipe bending dies work together to produce the perfect bend according to the computer's specifications.
How to choose cnc pipe bending machine manufacturer?
The following criteria and factors should be considered when you choose pipe bending machine manufacturer:


Technical level: The field of pipe bending machines requires technology related to machine structure, control system, software and other aspects. Manufacturers need to have strong technical research and development capabilitiy, and constantly introduce new technological innovations to maintain their leading position.

Market reputation: The reputation of the manufacturer in terms of past market performance, user reputation, and industry evaluation is an important consideration. A cnc tube bending machine manufacturer with a good reputation will be more trustworthy and chooseable.

Product quality: The quality of the tube bender directly affects its work efficiency and precision, and the manufacturer must ensure that the quality of their cnc tube bending machines produced reaches a high standard, with stability and reliability.

After-sales service: The service life of the pipe bender is long, so the performance in after-sales service is also an important indicator. An excellent manufacturer needs to be able to provide customers with timely and thoughtful after-sales service to solve the problems encountered by customers in use.

Price-performance ratio: The price of the pipe bender is not low, so price and performance-price ratio are very important considerations. Excellent manufacturers should provide cost-effective products to customers.

Production capacity and delivery date: The manufacturer should have sufficient production capacity to be able to deliver customer orders in a timely manner on the premise of ensuring product quality.

Internationalization strategy: Manufacturers should have certain internationalization experience and strategies, launch products suitable according to the needs of various markets in the world, and be able to quickly and flexibly respond to customer needs.

The above are the main criteria and considerations for choosing the best tube bender manufacturer, which may vary according to the needs of different industries and users.
CNC tube bending machine manufacturers in China
China is a huge production and consumption market of cnc tube bending machine, there are many cnc steel tube bending machine manufacturers in China. Among these cnc steel tube bending machine manufacturers there are 5 outstanding cnc tube bender manufacturers.

1, Yansumi Machinery

Website: https://maquinaria-y-equipo.com

Chongqing Popular Motor Machinery Electronic Co., Ltd. is the manufacturer behind the well-regarded brand of metal forming machines known as Yansumi Machinery. As one of the top CNC tube bending machine manufacturers in China, they have established a strong reputation in the industry. The NC & CNC tube bender machine and roller bending machine that they manufacture are widely used by a variety of industries, including mobile, shipbuilding, boiler, fitness equipment, bicycles, three wheel motorcycles, furniture, and door and window manufacturing.

In addition to cnc tube bending machines, Yansumi Machinery also offer hydraulic cnc tube bending machines, 3 axis cnc tube bending machine, 4 axis cnc tube benders and 5 axis cnc tube benders. Their CNC tube bending machines can bend tubes from 16 mm to 170 mm and can meet production requirements of different products. The products of CNC tube bending machines have high accuracy and can be used in a wide variety of production processes. High-speed automatic production can be achieved with the CNC tube bender and other automatic machines of Yansumi Machinery. As one of best cnc tube bending machine manufacturers, Yansumi Machinery is always working for providing clients with high quality china bending machine, and can also offer professional production solutions to their customer so that the customer can do the production with minimal investment.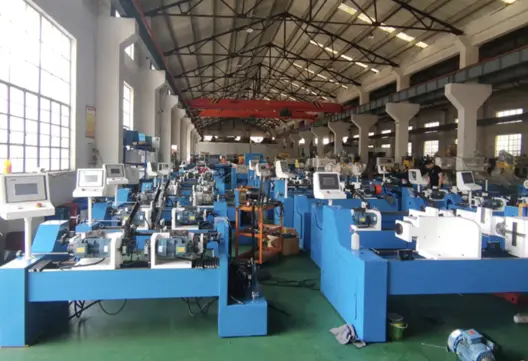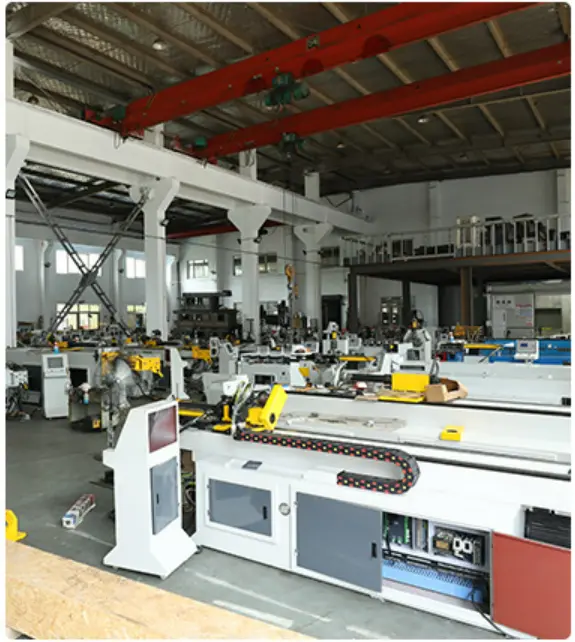 2, Nantong Super Machinery Co.,Ltd

Website: https://supermachinery.com/

As one of bending machine manufacturers, they provide press brakes and shears, hydraulic presses, light pole production lines, laser cutting machines, rolling machines, and a variety of process equipment solutions. They have exported our products to over 30 countries.

In the past, Super has adhered to the management concept of "sincerity, quality, and service" and strictly implemented the international quality management system ISO9001, considering quality its life, insisting on the tenet that reform and innovation ensure the production of best bending machine and the enterprise's long-term viability.

3, Almaco Machine Tool Co., Ltd.

Website: https://almaco.en.alibaba.com/

SJR Machinery Co., Ltd. was founded in 1984, it's one of cnc tube benders manufacturers that have long history. The company is capable of manufacturing more than 80 types of machines, such as lathes, mills, grinders, power presses, hydraulic guillotines, hydraulic press brakes, CNC and automotive machines, and other similar products.

The range they offer is currently exported to more than 40 countries and they supply customers such as CPI (USA), Machine Services Co., (UK), SAYES, (UAE) and S & W (Singapore) with their products.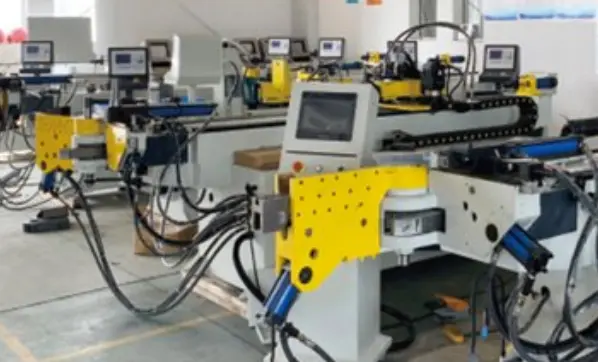 4, Jiangsu Hoston Machine Tools Co., Ltd.

Website: https://cnjshoston.en.alibaba.com/

Hoston Machine Tools was established in 2009. The company specializes in the research, development, production, and service of metal forming and processing machines, high-precision fabrication equipment, and pipe processing equipment in Mainland China. From manufacturing to trading, they offer a wide range of services.

As well as qualified sales representatives, their highly-trained service professionals are available to meet your needs and ensure complete customer satisfaction at all times. They have established excellent trade relationships with customers around the world as a result of their commitment to providing the highest quality products and the best services.

5, Accurl Cnc Machine (anhui) Manufactory Co., Ltd.

Website: https://hacopress.en.alibaba.com/

ACCURL is one of well-known heavy duty cnc pipe bending machine manufacturers in the world market. Its brand "Accurl" has been one of the leading brands in the field of international metal sheet equipments for many years. Their group is dedicated to the development of new products, production and sales.

They are mainly concerned with the following sheet metal processing equipments: CNC Press Brake, CNC Shearing Machine, and CNC Punch Press. They are capable of producing large hydraulic presses and press brakes with a tonnage exceeding 16000 tones and 16 meters. Their R&D team is highly skilled, and they are capable of designing and manufacturing world-class products.